Notes from the Manager
Related Strips: #561: A Night in the Patio, Part One; #562: A Night in the Patio, Part Two; #563: A Night in the Patio, Part Three; #564: A Night in the Patio, Part Four
Here's the trailer for Tales of the Night, the Michel Ocelot film that Jason mentions:
You can get links to the trailers for the other films, including The Warriors, via at the Patio Theater Events page.
You can read more about the partnership between the Patio and the Chicago Cinema Society at DNAinfo.com. Short version, they're helping bring a broader range of programming to the Patio, which has been mainly a second run (or late first run) theater since it reopened. This makes the Patio much more of a "destination" theater than it was before, I think, and should therefore expand its customer base farther outside of Portage Park than it had been before.
This strip isn't just Chicago movie theater news wankery, though; without getting into spoilers, you can probably imagine how — given Multiplex's new focus on the cast as movie theater managers — this is… relevant.
EDIT: Oh, and Odd Obsession is an independently owned and run Chicago video store that specializes in hard to find movies of all kinds. If you're a movie buff in the Chicago area, do yourself a favor and check it out.
See you Monday!
Multiplex News & Updates
Bonus comics, drawings, and
other awesome stuff
Thursday, June 15, 2017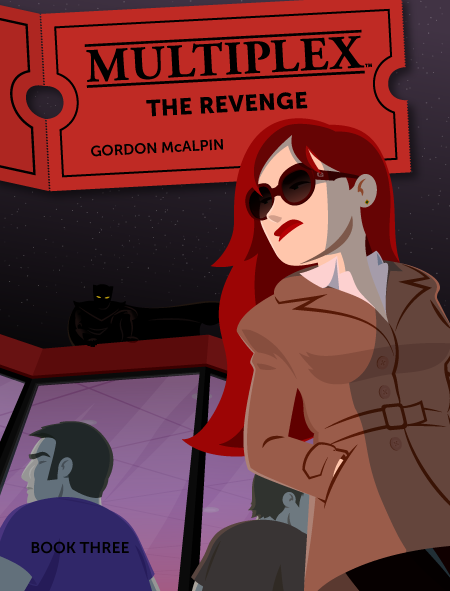 Multiplex: The Revenge (Book Three) is now available in the Multiplex Store! (Only regular/unsigned editions are available at this time; I'll add artist's editions once all of the Kickstarter rewards have been fulfilled.)
Multiplex: The Revenge collects chapters 11–15 of the series (strips #217–338, which ran from March 2008 to March 2009), plus over 30 bonus comics — including an all-new stories sets on opening night of The Dark Knight and Zack Snyder's Watchmen! If you miss Multiplex and would like to see more with these characters, the book collections are for you.
Head on over to the Multiplex Store and check it out today!
Other Recent Posts