Notes from the Manager
Related Strips: #416: Past, Present and Future?, Part One; #417: Past, Present and Future?, Part Two; #418: Past, Present and Future?, Part Three; #557: The Third Miracle, Part Three
As long-time readers know, I hate missing deadlines, even when they're for more updates than normal, but I'm already falling behind on things thanks to my freelance (over-)workload this week. (On the other hand, it sure is nice to know I can afford to pay for things like rent and groceries this month.)
If you'd like to see me do the strip three times a week on a regular basis… buy the book (or anything else), make a small donation, or tell your friends about Multiplex. The book is for people who really truly madly deeply love the strip or just prefer books to websites (like me), and some of you don't. And I know a lot of you are poor movie theater employees, and that's totally cool, too. But whatever your circumstances, if you enjoy the strip and want more of it than just the two strips a week I'll be doing until… well, until the strip ends… please, pretty please, share Multiplex your friends. Sharing is free!
(You can also just send me a nice e-mail and I will love you for it, but I'd love you more if you got your friends to read the strip, too.)
See you on Friday, and thank you, as always, for reading.
Multiplex News & Updates
Bonus comics, drawings, and
other awesome stuff
Thursday, June 15, 2017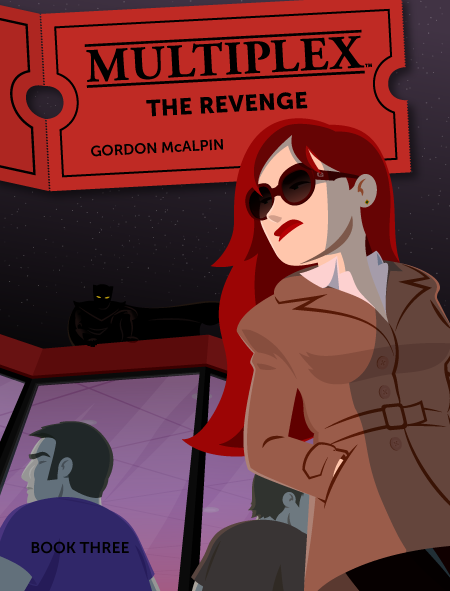 Multiplex: The Revenge (Book Three) is now available in the Multiplex Store! (Only regular/unsigned editions are available at this time; I'll add artist's editions once all of the Kickstarter rewards have been fulfilled.)
Multiplex: The Revenge collects chapters 11–15 of the series (strips #217–338, which ran from March 2008 to March 2009), plus over 30 bonus comics — including an all-new stories sets on opening night of The Dark Knight and Zack Snyder's Watchmen! If you miss Multiplex and would like to see more with these characters, the book collections are for you.
Head on over to the Multiplex Store and check it out today!
Other Recent Posts