Notes from the Manager
Related Strips: #687: Insolence of the Dead; #688: Born for This; #689: Bad Brains; #690: Bad Taste; #691: Lockdown, Part One
Just a reminder: Those of you who missed out on the Kickstarter fundraiser can still help support the production of Book 2 via the Multiplex Store (and PayPal). These are only available for a limited time! I'm not sure how limited, but we're talking a matter of weeks, not months.
I spent last week cranking out a large illustration project that will help keep my bills paid for the next several months, so I'll be able to start drawing the last two bonus strips for Chapter 7 this week and hopefully get out the finished Chapter 7 eBook before the end of the month, as planned.
While I am paying myself a modest "salary" from the funding raised through Kickstarter and the Multiplex Store, at this point — with over $17,500 raised after Kickstarter, Amazon, and PayPal fees — I'm paying myself less than minimum wage, so I am supplementing my income with some other work. The more money we raise, the less I need to do that… and (fringe benefit!) the more I can do three strips a week of the regular comic — like I'm doing this week, as a matter of fact. Hopefully, I'll even get caught up and can start toning these things again, but for the time being, the hand-drawn stuff will just be inked.
Thanks for reading, everybody, and… see you Wednesday!
Multiplex News & Updates
Bonus comics, drawings, and
other awesome stuff
Thursday, June 15, 2017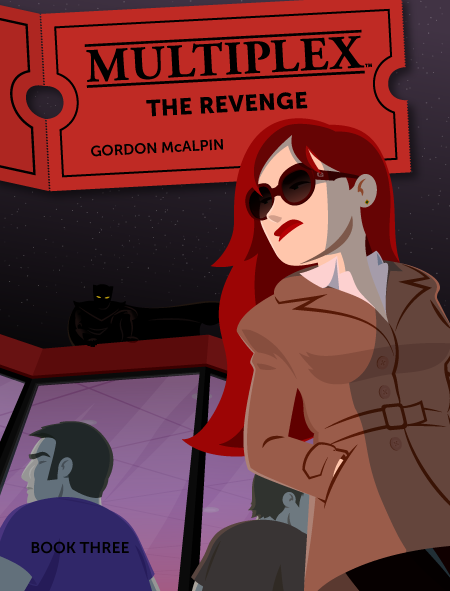 Multiplex: The Revenge (Book Three) is now available in the Multiplex Store! (Only regular/unsigned editions are available at this time; I'll add artist's editions once all of the Kickstarter rewards have been fulfilled.)
Multiplex: The Revenge collects chapters 11–15 of the series (strips #217–338, which ran from March 2008 to March 2009), plus over 30 bonus comics — including an all-new stories sets on opening night of The Dark Knight and Zack Snyder's Watchmen! If you miss Multiplex and would like to see more with these characters, the book collections are for you.
Head on over to the Multiplex Store and check it out today!
Other Recent Posts