Notes from the Manager
Related Strips: #616: Persuasion; #631: Reading Between the Lines
I hate to spoil the surprise, but I don't want you coming here on Monday wondering if I've forgotten that I do a webcomic at all.
Beginning Monday, Multiplex will be crossing over with Dave Willis's webcomic Shortpacked! I'm sure many of you already read it, and if you don't, now is as good a time as any to get started. It's one of my favorite webcomics (and I'm not even remotely a toy nerd), and one of a very few that I actually bother to read online rather than waiting for print collections.
Dave also happens to be one of my favorite people in webcomics, and he also helped coerce Spike and Kel into letting me to join Blank Label Comics collective.
The six-part crossover will start on Monday over at Shortpacked!, and then alterate for the next few days — so Multiplex on Tuesday, SP! on Wednesday, Multiplex on Thursday, and then conclude on Friday with strips at both sites. (Dave's Friday comic will be first chronologically.)
See you next Tuesday! And if you're reading this on Monday, that's why there won't be a new comic until tomorrow. By the way, for you eager beavers who like to read strips immediately, Shortpacked!'s strips post at midnight EST, while Multiplex's post at midnight CST.
Multiplex News & Updates
Bonus comics, drawings, and
other awesome stuff
Thursday, June 15, 2017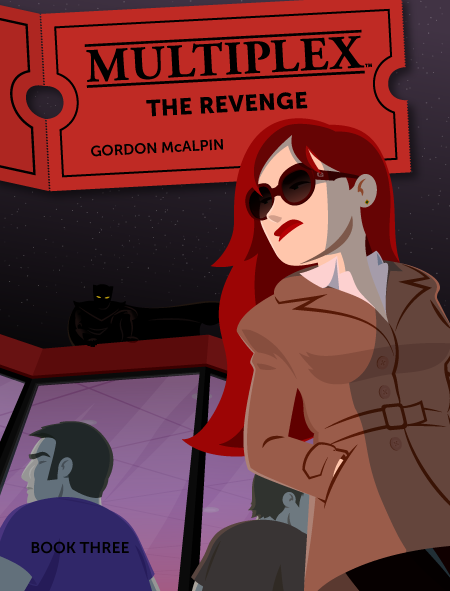 Multiplex: The Revenge (Book Three) is now available in the Multiplex Store! (Only regular/unsigned editions are available at this time; I'll add artist's editions once all of the Kickstarter rewards have been fulfilled.)
Multiplex: The Revenge collects chapters 11–15 of the series (strips #217–338, which ran from March 2008 to March 2009), plus over 30 bonus comics — including an all-new stories sets on opening night of The Dark Knight and Zack Snyder's Watchmen! If you miss Multiplex and would like to see more with these characters, the book collections are for you.
Head on over to the Multiplex Store and check it out today!
Other Recent Posts