Notes from the Manager
Related Strips: #531: Babel Fish; #532: TMI; #589: Dream Come True; #590: Freddy vs. Jason; #597: Exquisite Corpses; #602: Just Desserts, Part One; #603: Just Desserts, Part Two; #605: Holding Pattern
And there you have it — the end of Book 5… and the official half-way point in Multiplex. I'm (currently) planning to do ten books in all, if you don't remember me mentioning this before. They won't all be the same length, of course — this one is the longest so far, I think — so that doesn't necessarily mean another six years. It could be more, or less.
Another milestone coming up very very soon is this Sunday — July 10th, 2011 — a.k.a. the sixth anniversary of Multiplex. Thanks to everybody who's been reading for all this time. My friends complain that I'm basically spending every waking moment I can on this comic, but I do it for yooouuuu. And I love just about every minute of it.
If you started reading in the first year or two, give me a shout-out in the comments! I'd love to hear from yaz.
See you Monday!
Multiplex News & Updates
Bonus comics, drawings, and
other awesome stuff
Thursday, June 15, 2017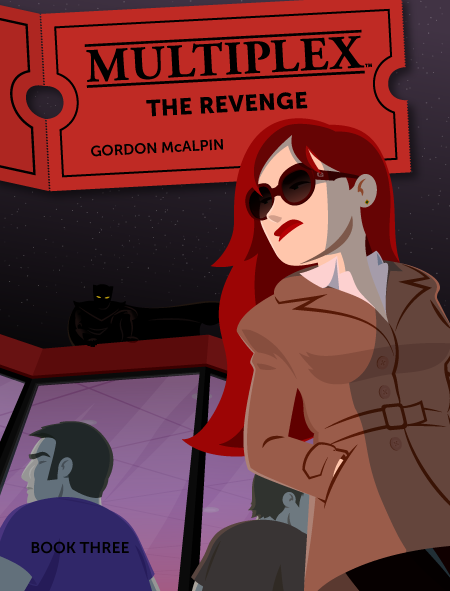 Multiplex: The Revenge (Book Three) is now available in the Multiplex Store! (Only regular/unsigned editions are available at this time; I'll add artist's editions once all of the Kickstarter rewards have been fulfilled.)
Multiplex: The Revenge collects chapters 11–15 of the series (strips #217–338, which ran from March 2008 to March 2009), plus over 30 bonus comics — including an all-new stories sets on opening night of The Dark Knight and Zack Snyder's Watchmen! If you miss Multiplex and would like to see more with these characters, the book collections are for you.
Head on over to the Multiplex Store and check it out today!
Other Recent Posts