Notes from the Manager
Related Strips: #591: Blood Thirst; #592: It's All Fun and Games…; #593: Accidents Will Happen; #594: Grown Ups
Yes, I reached into the depths of my lameness and named this strip after a Coldplay song.
Let's give a round of applause to Angie Booth, the winner of a random drawing among Multiplex: Enjoy Your Show Kickstarter backers. She won the dubious honor of "a job at the Multiplex 10 Cinemas," and while I wasn't originally sure what I was going to do with "Angie 2" when she first appeared, as she came to be known, was always meant as a temporary character.
I actually considered killing her off suddenly almost immediately after introducing her, but I decided that might be a little weird, even for Multiplex. So, she stuck around longer than I planned, and was more popular than I expected, but hey, what are you gonna do?
Thanks for being a sport, Angie. Stand up a wave, please!
Oh, and a slew of new T-shirt designs went up in the Multiplex Store last week, so check 'em out!
Multiplex News & Updates
Bonus comics, drawings, and
other awesome stuff
Thursday, June 15, 2017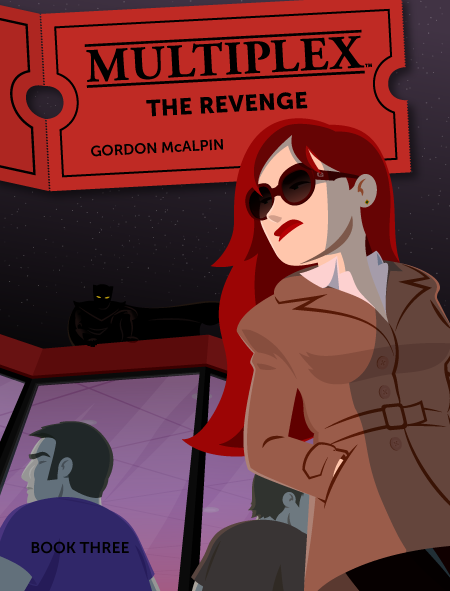 Multiplex: The Revenge (Book Three) is now available in the Multiplex Store! (Only regular/unsigned editions are available at this time; I'll add artist's editions once all of the Kickstarter rewards have been fulfilled.)
Multiplex: The Revenge collects chapters 11–15 of the series (strips #217–338, which ran from March 2008 to March 2009), plus over 30 bonus comics — including an all-new stories sets on opening night of The Dark Knight and Zack Snyder's Watchmen! If you miss Multiplex and would like to see more with these characters, the book collections are for you.
Head on over to the Multiplex Store and check it out today!
Other Recent Posts