Notes from the Manager
Related Strips: #591: Blood Thirst; #592: It's All Fun and Games…; #593: Accidents Will Happen; #594: Grown Ups
(I borrowed this strip's title from some ridiculous-looking romance that came out last year, by the way. It's not a typo.)
If you don't already have a copy of the Multiplex: Enjoy Your Show (Book 1) print collection, it is now listed in the June PREVIEWS catalog (page 258). It's a Diamond Comics Staff Pick, in fact! Ask your local comics shop to get you a copy sometime this month, and save yourself the shipping. If they have a Diamond account (and if they're a comic book store, chances are they do), that can get it for you.
While you're at it, tell 'em how much you love Multiplex, so they order a few extra copies. :)
I hope you enjoyed the three strips this week — or five, if you count the two bonus comics from Chapter 6 that posted over at Deleted Scenes. I'm in a race to get to finish Book 5 before July 10th (the sixth anniversary of Multiplex), so I'll keep the updates coming as fast as I can. If you'd like to help me do that (and in the process help Book 2 come sooner, rather than later), please feel free make a donation or buy something from the Multiplex Store!
See you next week!
Multiplex News & Updates
Bonus comics, drawings, and
other awesome stuff
Thursday, June 15, 2017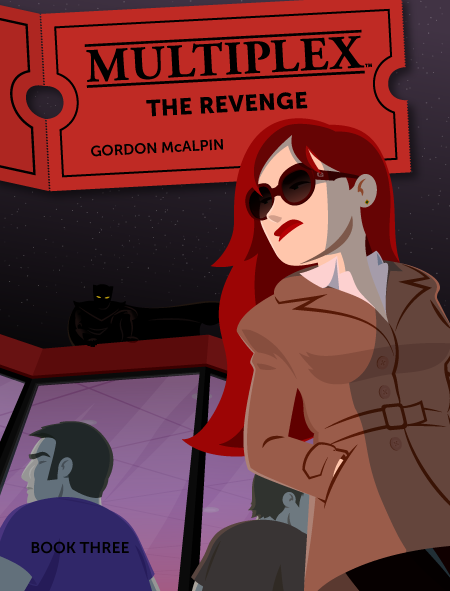 Multiplex: The Revenge (Book Three) is now available in the Multiplex Store! (Only regular/unsigned editions are available at this time; I'll add artist's editions once all of the Kickstarter rewards have been fulfilled.)
Multiplex: The Revenge collects chapters 11–15 of the series (strips #217–338, which ran from March 2008 to March 2009), plus over 30 bonus comics — including an all-new stories sets on opening night of The Dark Knight and Zack Snyder's Watchmen! If you miss Multiplex and would like to see more with these characters, the book collections are for you.
Head on over to the Multiplex Store and check it out today!
Other Recent Posts