Notes from the Manager
Related Strips: #448: Up, Up and Away; #539: What Did You Do?!
There will be five updates this week (some of them guest strips), so keep coming back!
For those of you who haven't heard of Rare Exports — pretty much all of you, I wager — this is Rare Exports:
I caught it at an advance screening last week, thanks to Ain't It Cool News and Gapers Block's Steve Prokopy (a.k.a. Capone). It's a bizarre, Finnish "Christmas tale" that… defies explanation, I guess. You can get the gist of it from the trailer, though. It's a flawed film on many levels, but it's funny and so many kinds of weird that I can't help but recommend it. If it's playing near you (and, for the vast majority of you, it isn't), see it — on Christmas Eve or Christmas, if you can. (Sure enough, it opens in Chicago on Christmas Eve, at the lovely Music Box Theatre.)
UPDATE: A couple of Finnish readers have informed me that there were two Rare Exports short films. They're both on YouTube, of course. I've only seen one of them (which is really funny), but I think the feature is an… er, "origin" story of sorts, so if you are able to see the film and want to go in totally blind, you may not want to watch them first.
Sorry to disappoint those of you hoping for one of the girls to dress up as Quorra or Jem from Tron Legacy; maybe Thursday… Having seen the movie — and unlike half the internet, I enjoyed it despite its many (many) shortcomings. It's pretty, it sounds great, and I thought it was fun.
What did you think — or did you let the negative buzz discourage you from checking it out?
Multiplex News & Updates
Bonus comics, drawings, and
other awesome stuff
Thursday, June 15, 2017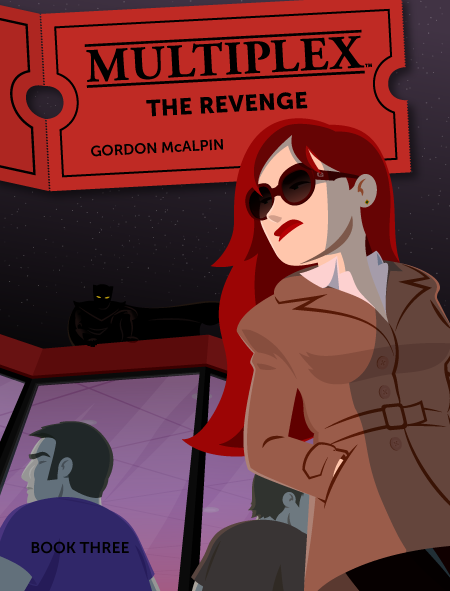 Multiplex: The Revenge (Book Three) is now available in the Multiplex Store! (Only regular/unsigned editions are available at this time; I'll add artist's editions once all of the Kickstarter rewards have been fulfilled.)
Multiplex: The Revenge collects chapters 11–15 of the series (strips #217–338, which ran from March 2008 to March 2009), plus over 30 bonus comics — including an all-new stories sets on opening night of The Dark Knight and Zack Snyder's Watchmen! If you miss Multiplex and would like to see more with these characters, the book collections are for you.
Head on over to the Multiplex Store and check it out today!
Other Recent Posts