Notes from the Manager
You can check out the trailer for Waking Sleeping Beauty over at Apple (and read a little bit about it, as well).
Whilst researching this strip, I happened upon the Wikipedia page about the Sleeping Beauty story, where I found out that in some early versions of the tale, the princess was raped in her sleep by some king or prince or another. In one version, a King rapes her and she bears two children while she's still asleep — and one of the children sucks the thorn that keeps her asleep from her finger, waking her up.
Damn! Some of those original, un-Bowdlerized fairy tales were messed up.
As a fan of 2D animation, I'd like to think that The Princess and the Frog was like The Great Mouse Detective of a new new renaissance — a minor success that paves the way for some truly fantastic stuff down the road — but we'll have to wait and see how it all plays out.
Multiplex News & Updates
Bonus comics, drawings, and
other awesome stuff
Thursday, June 15, 2017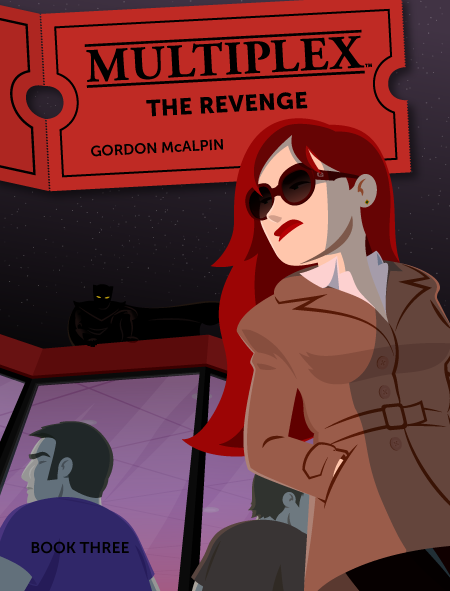 Multiplex: The Revenge (Book Three) is now available in the Multiplex Store! (Only regular/unsigned editions are available at this time; I'll add artist's editions once all of the Kickstarter rewards have been fulfilled.)
Multiplex: The Revenge collects chapters 11–15 of the series (strips #217–338, which ran from March 2008 to March 2009), plus over 30 bonus comics — including an all-new stories sets on opening night of The Dark Knight and Zack Snyder's Watchmen! If you miss Multiplex and would like to see more with these characters, the book collections are for you.
Head on over to the Multiplex Store and check it out today!
Other Recent Posts