Notes from the Manager
Related Strips: #886: The Miner; #890: Old, Familiar Faces
For those of you who don't pay attention to the Deleted Scenes blog (i.e. those of you who read using the Multiplex app for iPhone and iPod touch), thanks to the Patreon backers passing the $600/month Milestone Goal, the Multiplex website is now completely ad-free and reader supported.
That means I can fill up the full width of the site with the comic, and I've made all of Chapter 34 to date 900px wide. That's 25% bigger! Since the iOS app uses the same images, this means the strip images in the app are 25% bigger, too. So if you love the Multiplex app, consider tossing us a few bucks a month via Patreon. (The $99/year iOS Developer Program fee keeps it in the App Store, and it's one of the many costs of doing Multiplex.)
My programmer (Daniel Farrelly) and I are working on more improvements to the website — including a new, responsive layout (that will look more or less like this one, but… bigger) and retina-friendly graphics. Stay tuned for news about that!
Multiplex News & Updates
Bonus comics, drawings, and
other awesome stuff
Thursday, June 15, 2017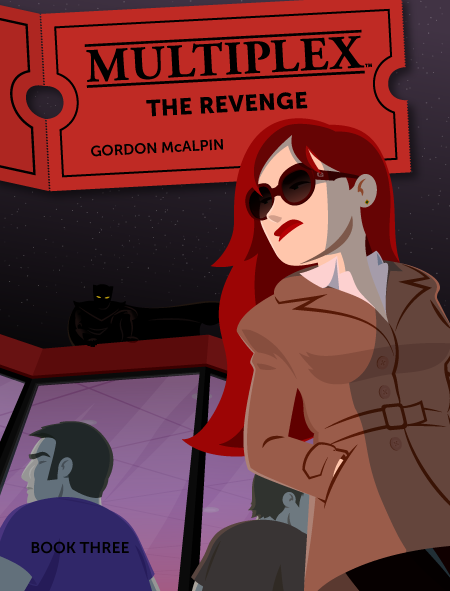 Multiplex: The Revenge (Book Three) is now available in the Multiplex Store! (Only regular/unsigned editions are available at this time; I'll add artist's editions once all of the Kickstarter rewards have been fulfilled.)
Multiplex: The Revenge collects chapters 11–15 of the series (strips #217–338, which ran from March 2008 to March 2009), plus over 30 bonus comics — including an all-new stories sets on opening night of The Dark Knight and Zack Snyder's Watchmen! If you miss Multiplex and would like to see more with these characters, the book collections are for you.
Head on over to the Multiplex Store and check it out today!
Other Recent Posts