Notes from the Manager
Related Strips: #353: Right Hand Man
This isn't really the start of an arc so much as a couple of strips set on the same night. More with Kurt and Angie and Jason and Becky later this week!
(Incidentally, Tease's line isn't really a spoiler since I haven't seen Elysium yet and, duh, it's obvious. Also, I think they show him on Elysium in the trailer, right? I forget. I've been avoiding the more recent clips and trailers for it, since I'm pretty excited about it.)
'Til then, it would be swell if some of you guys could help me test out the brand-new Multiplex Store. (By buying something, I mean.) There are still some things I can't really test out without real live transactions going through. It currently accepts Paypal and Amazon Payments.
Multiplex News & Updates
Bonus comics, drawings, and
other awesome stuff
Thursday, June 15, 2017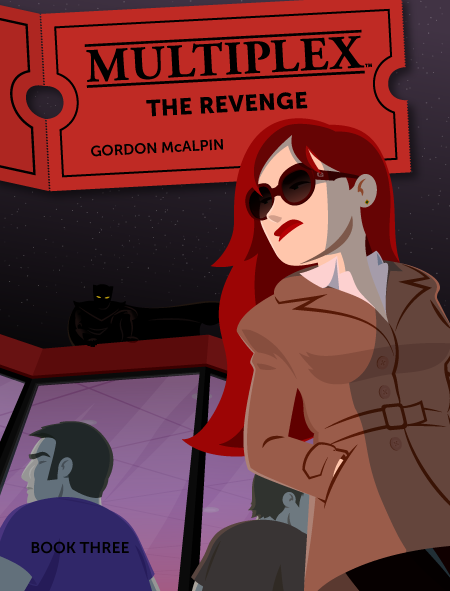 Multiplex: The Revenge (Book Three) is now available in the Multiplex Store! (Only regular/unsigned editions are available at this time; I'll add artist's editions once all of the Kickstarter rewards have been fulfilled.)
Multiplex: The Revenge collects chapters 11–15 of the series (strips #217–338, which ran from March 2008 to March 2009), plus over 30 bonus comics — including an all-new stories sets on opening night of The Dark Knight and Zack Snyder's Watchmen! If you miss Multiplex and would like to see more with these characters, the book collections are for you.
Head on over to the Multiplex Store and check it out today!
Other Recent Posts