Notes from the Manager
Related Strips: #652: Mortal Combat, Part Five; #655: Art Imitating Life; #658: Calling the Shots, Part One
Running even later than I was on Thursday, so until I can get the hand-drawn panels for this page inked and toned, you'll just have to stare at my pencils (plus a little shading that I threw in for toning reference).
The good news is, my graduate school portfolio and application are now turned in, and I only have Multiplex and way too much freelance work to concentrate on now. Cross your fingers for me, I guess?
Once again, we have Matt in the hand-drawn panels (3 & 4, anyway). Still just a background character…
See you Thursday!
UPDATE (1/18): Well, I was supposed to be blacked out. But I messed something up with the code. Because I'm dumb. Anyway. Go here to learn more about SOPA and PIPA and/or write your Congressmen. Please.

Multiplex News & Updates
Bonus comics, drawings, and
other awesome stuff
Thursday, June 15, 2017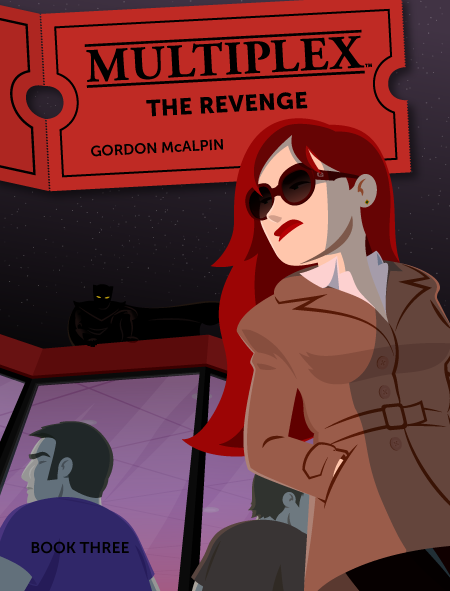 Multiplex: The Revenge (Book Three) is now available in the Multiplex Store! (Only regular/unsigned editions are available at this time; I'll add artist's editions once all of the Kickstarter rewards have been fulfilled.)
Multiplex: The Revenge collects chapters 11–15 of the series (strips #217–338, which ran from March 2008 to March 2009), plus over 30 bonus comics — including an all-new stories sets on opening night of The Dark Knight and Zack Snyder's Watchmen! If you miss Multiplex and would like to see more with these characters, the book collections are for you.
Head on over to the Multiplex Store and check it out today!
Other Recent Posts