Notes from the Manager
Related Strips: #8: The Blogger; #15: The Blogger Returns ; #46: The Blogger Strikes Back
There are a few other strips with the Blogger in them, but they're not as important.
There are probably a few of you who thought the last strip was a cliffhanger (I know at least one of you did, because he said so in a comment). Sorry. :) It wasn't a cliffhanger. It was an ending. I wasn't sure if I would revisit New Year's after midnight downstairs or not (and ultimately, obviously, decided not), but Jason and Becky's after-midnight time is between the two of them.
If it makes you feel better, they probably shared a friendly peck, but I know you guys, and I know some of you would have blown it out of proportion. ;)
Anyway. For those of you who don't follow the Deleted Scenes updates yet: I reviewed Tangled and The King's Speech last week! And I'll try to get a review of The Green Hornet up later this week (I'll be seeing it tomorrow night thanks to AICN's Capone).
Thanks to everybody who posted a guest strip in the last couple of weeks: Bill Walko, Iris Amelia, Daniel Farrelly, and Pizdzius Swedzioszek! I'll get them added to the Guest Strips section very soon, I swear. Holidays are hectic, y'know?
Multiplex News & Updates
Bonus comics, drawings, and
other awesome stuff
Thursday, June 15, 2017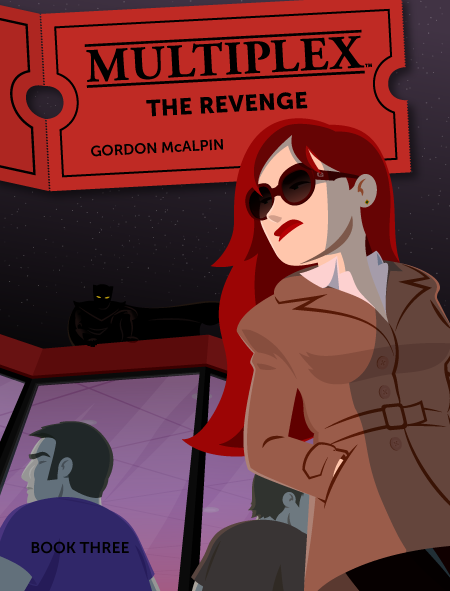 Multiplex: The Revenge (Book Three) is now available in the Multiplex Store! (Only regular/unsigned editions are available at this time; I'll add artist's editions once all of the Kickstarter rewards have been fulfilled.)
Multiplex: The Revenge collects chapters 11–15 of the series (strips #217–338, which ran from March 2008 to March 2009), plus over 30 bonus comics — including an all-new stories sets on opening night of The Dark Knight and Zack Snyder's Watchmen! If you miss Multiplex and would like to see more with these characters, the book collections are for you.
Head on over to the Multiplex Store and check it out today!
Other Recent Posts