Notes from the Manager
Related Strips: #195: Oh My God; #400: Diarrhea of the Dead, Part One
So you guys must really want those Mutliplex: Chapter 1 comics (and/or the print collection), because the Multiplex Kickstarter project is over $500 over the goal I'd set for tonight at midnight (and counting)!
It's not to late to get in on the action, though: if you pledge ANY amount today (Wednesday — and I'm going by Central Time), you'll be eligible to win one of five copies of the Chapter 1 print comic. (Note that these aren't yet printed, so they won't get shipped out for a while. They will eventually be available in the Multiplex Store, as well.)
Keep those pledges coming! I'll cook up another special reward/incentive random drawing soon, and (if you don't win now) you will be eligible for the next drawing!
Please don't feel like I'm asking for donations, here! I'm trying to make this more than worth your pledge: with bonus strips, the free copy of the Chapter 1 HD edition (and Chapter 2, when it's out) and $2 off any of the T-shirts in the Multiplex Store. The book will almost definitely have a cover price of $25 (judging from the quotes I'm getting back from printers so far), and you're getting free shipping anywhere in the US or Canada, too. With such ridiculously low interest rates these days, that's a bigger return on your investment than any bank is offering now, believe me!
There is one more update left this week! See you on Friday!
Multiplex News & Updates
Bonus comics, drawings, and
other awesome stuff
Thursday, June 15, 2017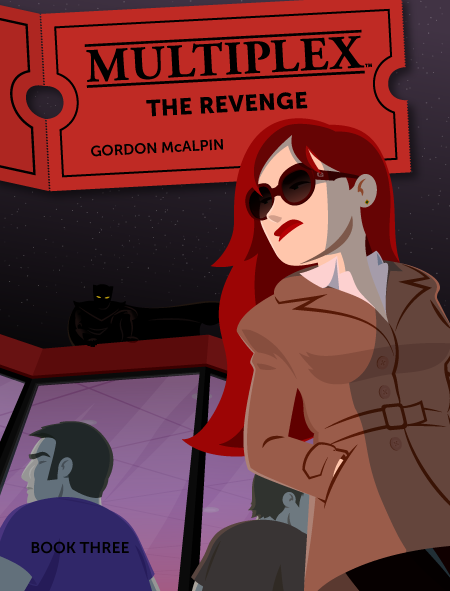 Multiplex: The Revenge (Book Three) is now available in the Multiplex Store! (Only regular/unsigned editions are available at this time; I'll add artist's editions once all of the Kickstarter rewards have been fulfilled.)
Multiplex: The Revenge collects chapters 11–15 of the series (strips #217–338, which ran from March 2008 to March 2009), plus over 30 bonus comics — including an all-new stories sets on opening night of The Dark Knight and Zack Snyder's Watchmen! If you miss Multiplex and would like to see more with these characters, the book collections are for you.
Head on over to the Multiplex Store and check it out today!
Other Recent Posts