Notes from the Manager
In case you haven't seen it yet, here is the trailer for Quentin Tarantino's Inglourious Basterds (yes, it's supposed to be spelled that way).
If you haven't been around since Thursday or didn't read the Notes from the Manager last week, you missed an update on Friday. You also missed the grand opening of the brand-spankin' new Multiplex Store, featuring two kick-ass T-shirt designs and the slightly updated, lower-priced downloadable version of the Multiplex: Chapter 1 ebook. (Yes, #2 is still coming!)
Buy stuff now and support your favorite movie theater-themed comic that's actually updated in the past four years! :)
(As I mentioned last week, if you have already purchased a copy of the earlier HD edition of the Multiplex eBook, drop me a line and I'll give you coupon codes for a free upgrade to the new edition, as well as a small discount any anything else in the store.)
All purchases come with a free (random-ish) 1" button and my eternal gratitude.
If you own a shop of some sort and would like to sell them, bulk discounts can be arranged, as well!
And if you don't see anything you like, drop me a line and tell me what you would like to see in the Multiplex Store!
Multiplex News & Updates
Bonus comics, drawings, and
other awesome stuff
Thursday, June 15, 2017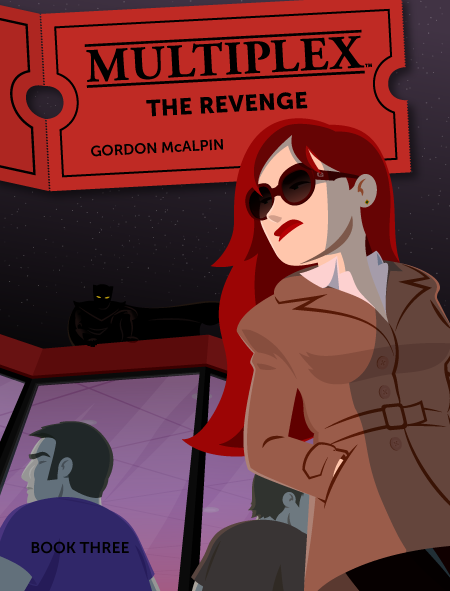 Multiplex: The Revenge (Book Three) is now available in the Multiplex Store! (Only regular/unsigned editions are available at this time; I'll add artist's editions once all of the Kickstarter rewards have been fulfilled.)
Multiplex: The Revenge collects chapters 11–15 of the series (strips #217–338, which ran from March 2008 to March 2009), plus over 30 bonus comics — including an all-new stories sets on opening night of The Dark Knight and Zack Snyder's Watchmen! If you miss Multiplex and would like to see more with these characters, the book collections are for you.
Head on over to the Multiplex Store and check it out today!
Other Recent Posts