Notes from the Manager
Related Strips: #88: Back to Business; #241: Nevermind; #318: Unbelievably Enough; #346: You Wouldn't Steal a Purse…
Lydia and her co-workers have all previously appeared in the strips linked to above, in the "Related Strips."
I can't take credit for the name "Dye Another Day," which was the brainchild of my friend Cori Ann McHembree and keeps with the movie theme all the stores in the Multiplex 10's shopping center have (for no particularly good reason, honestly).
It is, in theory, located in the storefront between Flickhead Video and the Multiplex 10.
The Music Box Theatre is a real Chicago moviehouse that shows foreign and indie films, and it is indeed currently running Godard's Vivre Sa Vie (I saw it yesterday). Here is its trailer (which shows waaaay too much, I should warn you):
UPDATE (5/21): #358 is running late, but there is a short, self-contained preview/mini-strip over in the forum.
Multiplex News & Updates
Bonus comics, drawings, and
other awesome stuff
Thursday, June 15, 2017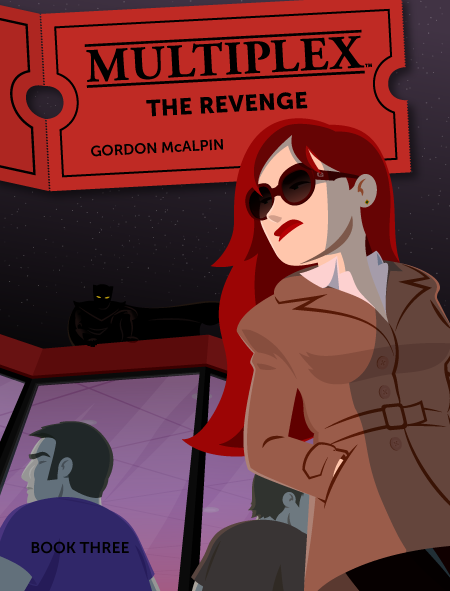 Multiplex: The Revenge (Book Three) is now available in the Multiplex Store! (Only regular/unsigned editions are available at this time; I'll add artist's editions once all of the Kickstarter rewards have been fulfilled.)
Multiplex: The Revenge collects chapters 11–15 of the series (strips #217–338, which ran from March 2008 to March 2009), plus over 30 bonus comics — including an all-new stories sets on opening night of The Dark Knight and Zack Snyder's Watchmen! If you miss Multiplex and would like to see more with these characters, the book collections are for you.
Head on over to the Multiplex Store and check it out today!
Other Recent Posts