Notes from the Manager
Related Strips: #334: Neil Explains It All, Part One; #335: Neil Explains It All, Part Two
Incidentally, that's a Tomb Raider poster in the background of Franklin's apartment, featuring Angelina Jolie (plus one hell of a padded bra) from before she forgot how to eat. The games on his screens are World of Warcraft (which I don't play and never have) and EVE Online (which I am currently addicted to).
EDIT: Life is strange. In the forum, gproject posted a link to this article about Chinese workers making a (not terribly lucrative) living off of gold farming in WoW, over at the Guardian's site. Coincidentally enough, it was posted today.
Apparently, the interviews in the article were facilitated by a documentary filmmaker working on a film about the Chinese gold farms called Play Money. That should be an interesting one.…
A statistic from Advanced Economic Research Systems (found at the Play Money site; also cited in a GameSpot article) stated that in January and February of 2005, "top sellers made more than $44,000 USD each month" from gold farming. Jeez, and I thought I was being unrealistic.
Multiplex News & Updates
Bonus comics, drawings, and
other awesome stuff
Thursday, June 15, 2017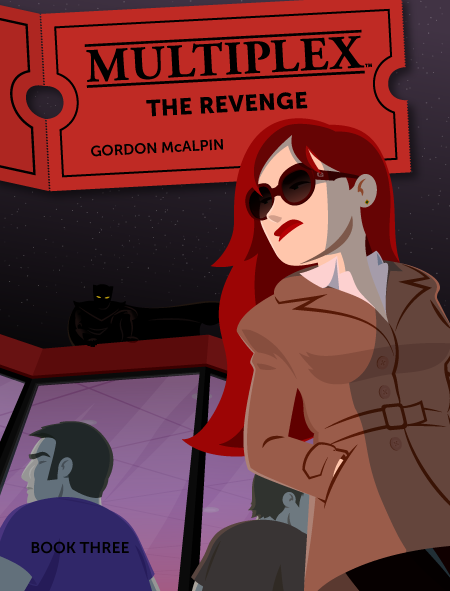 Multiplex: The Revenge (Book Three) is now available in the Multiplex Store! (Only regular/unsigned editions are available at this time; I'll add artist's editions once all of the Kickstarter rewards have been fulfilled.)
Multiplex: The Revenge collects chapters 11–15 of the series (strips #217–338, which ran from March 2008 to March 2009), plus over 30 bonus comics — including an all-new stories sets on opening night of The Dark Knight and Zack Snyder's Watchmen! If you miss Multiplex and would like to see more with these characters, the book collections are for you.
Head on over to the Multiplex Store and check it out today!
Other Recent Posts