Notes from the Manager
First things first: I know. Several of the "facts" in here have since been debunked. This strip takes place on Tuesday, immediately after the news broke -- and some of these debunked facts are still being reported in supposedly legitimate news outlets, like the bit about pills being "scattered about" his body. Anyway. Bear with me. I'm going somewhere with this.
Second: I'm not trying to make fun of his death, so don't yell at me about that. Bear with me, and when this is all done, if you think it was in poor taste, then yell at me, and I'll tell you how little I care.
Third: I liked Heath Ledger as an actor, in the handful of movies I've seen him in, and I felt he was on the verge of a breakthrough in his career with Dark Knight. So, really. I'm not making fun. Bear with me.
Thank you again to Shayna Marchese for the guest strip on Monday. If you missed it, go read it. It's in-continuity, and all of you love Devi, so of course you want to know what's been up with her, right?
Multiplex News & Updates
Bonus comics, drawings, and
other awesome stuff
Thursday, June 15, 2017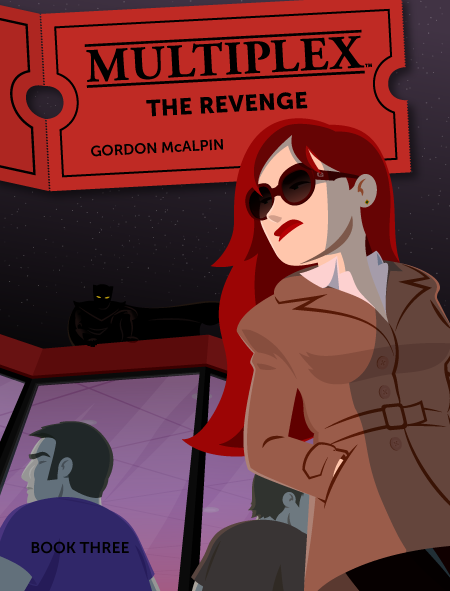 Multiplex: The Revenge (Book Three) is now available in the Multiplex Store! (Only regular/unsigned editions are available at this time; I'll add artist's editions once all of the Kickstarter rewards have been fulfilled.)
Multiplex: The Revenge collects chapters 11–15 of the series (strips #217–338, which ran from March 2008 to March 2009), plus over 30 bonus comics — including an all-new stories sets on opening night of The Dark Knight and Zack Snyder's Watchmen! If you miss Multiplex and would like to see more with these characters, the book collections are for you.
Head on over to the Multiplex Store and check it out today!
Other Recent Posts