Notes from the Manager
If you're not familiar with Katamari Damacy, watch these videos over at YouTube.
Also, if you're not familiar with The Diving Bell and the Butterfly, it's a new picture from Julian Schnabel (Basquiat, Before Night Falls). Being about a man who becomes completely paralyzed except for his left eye, it's a story that could easily have fallen into emotional torture porn territory if Diving Bell weren't so wonderfully shot, with a superb cast and accompanied by a terrific soundtrack. I have some quibbles with a couple of unnecessary liberties the script from the true story it's based upon, but they don't undermine the heart of the movie. It's still in limited release, so it may not be near many of you, but you'll be hearing about this film again come Oscar time.
UPDATE (1/1/08): Happy New Year! So this time, I'm going to try an Honor System Vote Incentive. That means, you don't have to vote at BuzzComix or TopWebComics, but it would sure be nice if you did. Those places have the same incentives as before. A new strip can be seen here, at my Flickr page. This strip takes place between Multiplex #s 23 and 24 (November, 2005) and features everybody's favorites, Jason and Becky, talking about Jane Austen's various film adaptations. Joy.
Multiplex News & Updates
Bonus comics, drawings, and
other awesome stuff
Thursday, June 15, 2017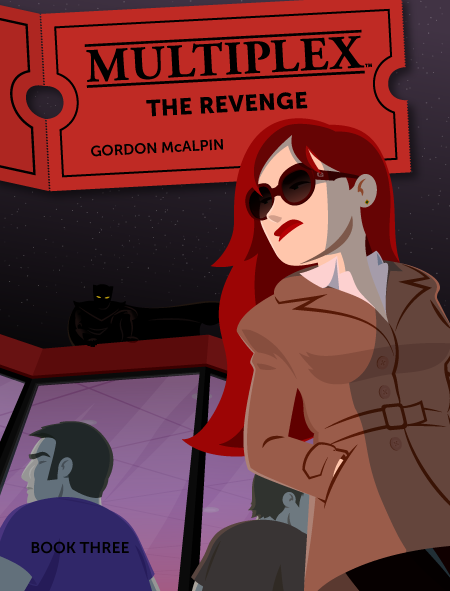 Multiplex: The Revenge (Book Three) is now available in the Multiplex Store! (Only regular/unsigned editions are available at this time; I'll add artist's editions once all of the Kickstarter rewards have been fulfilled.)
Multiplex: The Revenge collects chapters 11–15 of the series (strips #217–338, which ran from March 2008 to March 2009), plus over 30 bonus comics — including an all-new stories sets on opening night of The Dark Knight and Zack Snyder's Watchmen! If you miss Multiplex and would like to see more with these characters, the book collections are for you.
Head on over to the Multiplex Store and check it out today!
Other Recent Posts